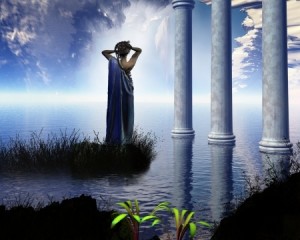 Sit comfortably on a chair, place your hands loosely, palms up, on your lap. Plant your feet firmly on the floor. Imagine tiny golden roots growing out of the soles of your feet and into the beautiful soil of Mother Earth. Ask Archangel Michael to protect you with his blue cloak of love, light and angelic protection. You are completely safe, feel safe, feel grounded.
Now open your mind to receiving a beautiful gift from me, Aphrodite. Feel the white glow of light as my gift to you enters your forehead and passes through your neck into your heart. I am giving you the gift of self love for the body. For you have an amazing body. It has been created by the celestial kingdom with you to be the perfect vehicle for you to learn your lessons in this life.
Now I want you to visualise your breasts (or other body part that you want to celebrate). Think about your breasts and all the amazing things they have done for you in your life. Have they given you pleasure? Have they been a source of milk for your children? Have they been an expression of your femininity?
If you have negative thoughts about your breasts bring them to the surface of your mind now. Imagine you are standing at the shore of a blue lake and on the top float water lilies. Each water lily represents one of the negative thoughts you have about your breasts.
You may imagine the water lilies are dark green if your thoughts are very negative. Accept your thoughts. Do you dislike or criticise your breasts because they are too small, too big, too heavy, they hurt your back, they didn't produce enough milk for your children, they are sagging, they don't make you feel attractive, they have been sick, they are scarred emotionally or physically? Each of these water lilies represents one of these thoughts.
I, Aphrodite, now float over the water lilies and touch each one of these. With each touch of my hands to the lily the light from me radiates into the lily turning it to the most beautiful white luminescence. I go through each lily touching it and turning it to pure, beautiful, brilliance. Lastly, I come towards you and touch your forehead and each breast so your whole vision and your breasts shine with the same startlingly beautiful white light. For you see you are beautiful, your breasts are beautiful whatever their age, size or shape. Love is like my light, it radiates from the heart and lights up the world. Light up your breasts with your love and your breasts will light up your life.
Whenever you feel a negative thought about your breasts replace it with a positive thought.  You are beautiful, know you are beautiful. With my love Aphrodite.
Now when you are ready feel your feet on the floor, move your hands and open your eyes.
Image credit for goddess at lake: Image credit: <a href='http://www.123rf.com/profile_algolonline'>algolonline / 123RF Stock Photo</a>

Print, PDF or email this post
Share