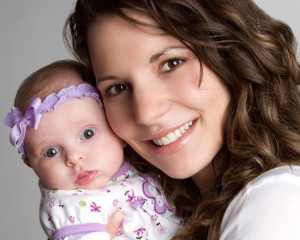 For many women pregnancy is the most psychic time of our lives. The time when we receive a soul directly from the other side into our bodies. My husband and I had been trying to get pregnant for a year when my friend lent me a wonderful book called Spirit Babies by Walter Makichen. Walter, who passed over in 2011, was an acclaimed psychic specialising in connecting with souls ready to incarnate.
The book presented touching case studies of parents he had worked with, most who weren't able to conceive, and who came to Walter to find out why. For many of these hopeful couples the spirit babies were already in the mother's aura but were battling to come through into the physical world.
The reasons were varied. Walter would connect to the spirit baby and discuss their fears and concerns. For one their mother was a career woman and her energy field was too harsh and stressed for the child to come through. Another couple were desparate to have a girl and the little soul waiting was a boy. One spirit baby had had such a traumatic birthing process in a previous incarnation that fear was holding them back from connecting with the mother.
In the book Walter gives mantras and exercises to connect to your spirit baby and call your spirit baby into your womb. I can remember when I first connected to my spirit child, it was overlooking an exquisite coastal view in Kenya. I told the soul all my fears and the spirit baby reassured me that I'd have a smooth pregnancy with no morning sickness, a safe labour of less than five hours and that he would love travel when he was born. He also told me that my life would just be starting and not ending.
I became pregnant a month after I began the mantras. I continued to talk to my spirit baby throughout my pregnancy. He even told me his name. When I met a psychic lady who specialised in connecting with spirit babies I asked her to let me know what he wanted to be called without telling her I was in communication already. The psychic said she was getting an "r and a q" in the name but that "he says he's already told you what he wants to be called!"
Tariq – as he named himself –  advised me what to eat, when to sleep, when to calm down. He also told me the exact date and time of his birth. It was two weeks before I was due and first-time mothers apparently are more likely to be overdue than before the due date. I wanted to go out to a party on the Saturday of that weekend so I checked with Tariq who calmly said it was fine for me to go but that I should pack my hospital bag.
My friend was moving house on the Sunday but Tariq said I should rest as that night I would go into labour. I didn't really believe him but that night sure enough I did and the following morning at 8.15am Tariq was born, 15 minutes after he had informed me he would come.
The power of spirit is not to be underestimated. If you are pregnant enjoy this special time. It is a great time of sacred connection, of enjoying the essence of your womanhood and if you haven't already connected try and connect with the baby in your womb and listen to their answers. Reassure them and be reassured. If you are trying to conceive Walter's book is a wonderful inspiring treasure.
———————————————————————————————————-
Helena is the author of the channeled book Velocity Ascension that will be published just after Easter 2013.

Print, PDF or email this post
Share