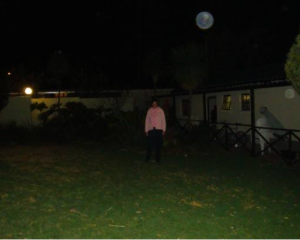 I was raised Methodist growing up but I found the religion, whilst teaching many wonderful life principles, very male dominated. I couldn't get away from the image of God as an old man with a white flowing beard sitting up above us and then there was Jesus with a lot of male disciples. It took me a longtime to realise that what I was feeling was being marginalised by my gender.
At sixteen I pronounced that I was atheist but when I connected to my guardian angel around the age of eighteen my cynacism towards the spiritual and Divine began to be chipped away. Soon after I took a teaching post in a university in Borneo, Indonesia. Whilst ghost sitings had been reasonably common back in Cornwall where I grew up, in Kalimantan they were every day. I soon realised I was the odd one out as my students had assembly not just with each other but with a host of dead ancestors that many of them could see with the naked eye. There was definately alot I now knew I didn't understand!
I have the gift of clairaudience – I hear the voices of the angels, archangels, ascended masters like Jesus, and in the last year Source, God, Allah, or whatever you choose to call the Divine. I also see them with my mind's eye, but I've frozen my ability to see with the naked eye – though I'm working on it.
Jesus is now one of the ascended masters that I work with on a regular basis. He has a special role – to work with humans to help them feel unconditional love for one another and for themselves.
There are thousands of ascended masters in the celestial kingdom working with Source and the angels for the benefit of the world. Ascended Masters is the title given to these wise women and men. It is also no surprise that in the celestial world religions don't exist. Ascended masters know they are all equal and there is only one truth – Source, God, Allah is one and the same. Humans just create various pathways to the truth.
We are familiar with many ascended masters like Jesus, Mother Mary, Prophet Mohammed, Buddha and Ghandi. All of these have contacted me to give messages to the world in the forthcoming book I am channeling "Velocity Ascension".
Many channelled books are being released at the current time and I am not surprised. Source has told me that the world is at a critical point in its history, it could go either way, up or down. The up is amazing, a Golden Age on this planet. The down could result in the end of the Earth.
Source and the ascended masters tell me the urgency of raising the vibrations of the Earth, which is achieved by raising the vibrations of each of us. That is why I've been asked to channel the book, Velocity Ascension, which "upstairs" (as I affectionately call the celestial kingdom) refers to as Source's Manual. Velocity Ascension is a guide to humans on how to raise our vibrations at high speed. It does this through visualisations, exercises and the gift of Source's own energy. I've been told by Source that Velocity Ascension is essentially God's direct word for the 21st Century.
If the exercises are followed in the book this will shift the level of vibrations in the world. But of course a tipping point will need to be reached, so stay in touch.
Also the celestial kingdom and Source is sending an abundance of help to us to raise our vibrations, all described in Velocity Ascension. They have also enabled us to have visual reassurance of the existence of beings of light through angel orbs that can now be captured on digital camera.
At the top of this blog is a photo I took of a friend of mine, an experienced psychic called Wendy, who works closely with Jesus. The large orb just to the right of centre top of the photo is Jesus's orb – essentially a ball of his energy. The orb is enlarged below. The orb also carries the soul of Wendy's deceased grandfather – orbs often bring the souls of deceased loved ones to visit us! Jesus's orb is reassurance to us all that we are looked after and never alone.

Print, PDF or email this post
Share